Yowza, more emails from "YKT" brimming with scoops & pics from "Wan Mei" and pics from "lyf4ever" as well!
First,
FK
=
F
orbidden
K
ingdom, and
FK2
=
F
orbidden
K
ingdom part
2.
"Wan Mei" wrote: "There wouldn't another FK2, at least for this year because in the aftermath of the quake Jet Li announced he will not do any acting this year but focus on the One Foundation Fund.

The One Foundation is disaster-relief Charity fund co-founded by Jet Li and the Red Cross Society of China in 2007.

BTW, Liu Yifei is a permanent volunteer of the One Foundation. Jet Li is her recruiter (during filming of FK).

Edit by Wanmei: The official English name is 'Individual Long-Term Volunteer' but in Chinese it is 'Permanent Volunteer'

The entire list of permanent volunteers of the One Foundation can be found at: www.onefoundation.cn/html/en/volunteers.htm

Liu Yifei's name is the third one in the first line for those who can't recognize Crystal's name in Chinese."
Further to my post about Liu Yifei donating RMB 1,000,000 to children affected by earthquake below
, "Wan Mei" adds a touching story of an anonymous taxi driver:
"Even giving 200 Yuan would not have been a small amount for this gentleman," exclaimed a visibly moved Liu Yifei, as she held the bundle of RMB10 and RMB20 notes in her hands.

Apparently Yifei's female assistant and another staff took a taxi to meet up with her during the donation event. In the course of conversation, the taxi driver learnt that Liu Yifei is giving away one million Yuan to children affected by earthquake.

Upon hearing this, not only did he refuse to charge taxi fare, he took out his collection of the day and handed 200 Yuan to Yifei's assistant. He insisted that he wanted to donate the money and drove away without leaving his name or contact details. Yifei's assistant only managed to jot down his license plate number"

More touching reports follows:
Crystal Liu Yi Fei participated in a music project called the "Promise" song to raise funds.
Herewith, more details on this and the translation by "Wan Mei,"
"Some further information about this song:

Original Title: Boundless Oceans, Vast Skies
Music composed by Wong Ka Kui (1961-1993)
New Lyrics by Andy Lau Tak-Wah
Translation:
How many…How many joy taken away?
How many lives buried in a wink… [Jackie Chan]
Transformed into silence
Tears twinkle on the eyes
Dust and dirt on desolate faces (I rather it's me)

Needless say… Behind you there is me…
Through rugged future I'll stay with you [LYF and FBB]
There's One of you…There's One of me
Burden's not a sign of weakness
Walk forward, for surely lies ahead - broaden is the path [Li Bingbing]
(You've still got me) [Quartet]

Partial translation by: Wan Mei
I have highlighted the part sang by Yifei (it is at times obscured by co-singer Fan Bingbing's voice). I will leave the translation of the rest of the song to Andy Lau's fans.

You can now download the song 'The Promise' by benbu.net
I believe the download link is provided by LYF's Thai fans.
However, be warned that Yifei's segment is very short, she appeared at 00:50 seconds to 00:54 only in the MV.
[click here]
File name: cheng nuo [Promise].wmv"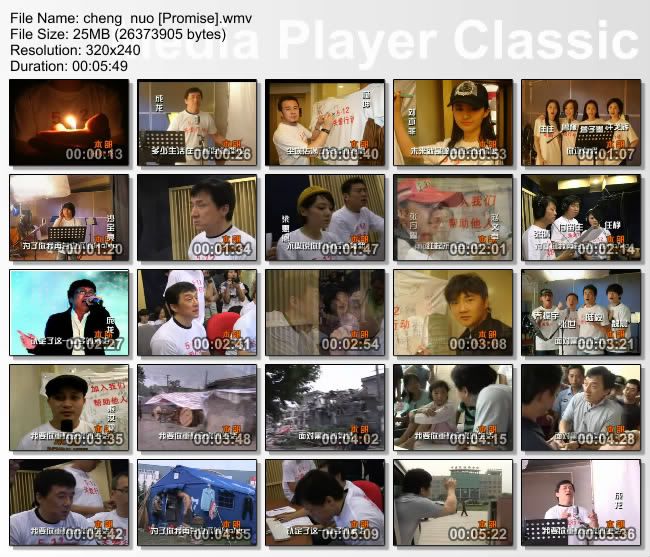 "For those who don't want to download, you can also view in on Youtube now:
[click here]

You can also watch the production of the "Promise" song on [YouTube]:
[click here]

Yifei is seen arriving with her mother at time 1:23 to 1:26

Another link of video to a LYF interview by benbu.net during the recording provide by same person:
[click here]"

"This is a link to the Yifei donate 1million yuan Video "in FLV format (the common source is from SOHU):"
[click here]

"File Name is:

[08.05.15]Liu Yifei Qu Xiao Mei Guo Xing Wei Zai Qu Er Tong Juan Kuan 100 Wan.flv

The bundle of RMB20 and smaller notes you see in the video clip should be from the anonymous taxi driver who requested Yifei to donate on his behalf I reported before."

Short Clip with Liu Yifei on MTV China 512 Earthquake Operation by MTV China and One Foundation
[click here]"

Huge thanks to "Wan Mei" for the scoops, translation, pics and links to various vids!!!
And finally, "lyf4ever" uploaded Crystal Liu Yi Fei's Earthquake related interview over at
YouTube
and found these pics from SINA:
(Hint for newbies for the pic above: Crystal Liu Yi Fei is
not
the lady with earrings. Crystal Liu Yi Fei is the one with darker hair)
Thanks "lyf4ever" for the pics and link and to "YKT" as always for sharing!
JC