Effective 27 October 2008, The Forbidden Kingdom, 1st Yifei movie on Blu-ray with Featurettes, Bloopers, Deleted Scenes, et al. is available to rent at:

www.disc-central.com.sg

Thanks to dtsontan for searching for alternate rental options:

www.videohub.sg

In addition, dtsontan wrote...excerpt only:

"...they apparently have the standard DVD version as well

Ref: DE1241
Disc(s): 1
Renting Points: 5.0"

Please note that this blog is NOT affiliated with www.disc-central.com.sg or www.videohub.sg and that rental of said original Blu-ray discs or original standard DVDs may be restricted to Singapore only.

Please let me know if you have links to online sites that rent said Blu-ray discs or standard DVDs in your country.  Simply click on the comment link at the end of this post. Thanks!

BONUS: marie found these ''kissing'' pics: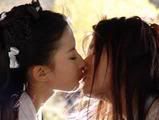 Thanks marie for the pics!!