FIRST, if you missed this earlier update:
www.yifei-liu.com/2008/11/crystal-liu-yifei-interview-dated-13.html
Please watch the YouTube vid embedded on the page of the earlier update FIRST
. If you don't. the below comments and translation
MAY
not make sense.
Comment on the interview by
Wan Mei
, excerpt:
"Currently (Nov 08), Yifei's next movie project after TFK has narrowed down to a choice between two, either a film from China or a different one from Hollywood.
One of them is a drama and the other one required her to perform some fight scenes. :P"
Seraphis
adds:
"I heard from the interview that she has two very good scripts like Wan Mei had mentioned. Good to know that she managed to find something that suits her expectation. The interviewer has pretty interesting questions. Yifei in the interview again stated that she has rejected film scripts that only require her to play stereotypical Asian actress roles and hopes that one day, will be able to become lead actress of a particular movie. Yifei revealed that she likes to watch Mystery/Investigative shows because she is a curious person."
I added:
"I wish to say this video is really great and deserves a watch even if you don't understand what they are saying!"
To which
Wan Mei
shares this
important insight
...excerpt:
"It is quite interesting that Yifei reveal candidly a number of things not well-known until now in this interview shown on regional/national TV.
Beside the martial arts training in US she also revealed her participation (and hence membership) in X-club a (PG rated) game club for playing a Chinese variant of the "Killer" party roleplay game.
The photo below is first posted by me here at Crystallized nearly half a year ago in:
[registration may be required to read post]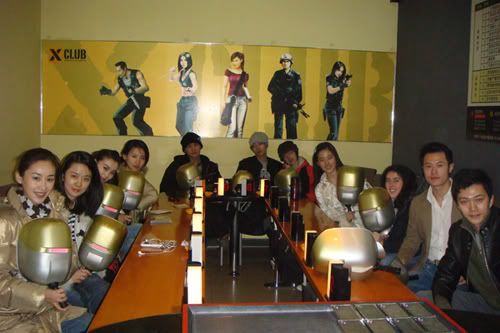 These devices hold by Yifei and others should be "sleep masks" used to cover the eyes of the players (to hide the identiy of the "killers") when they eliminate a member of the "police" during "night" time.
While Yifei isn't particularly keen on this game, she participated in them because it is one of the more popular off-school group activities of her classmates. One of the guy shown in the photo often organized this event on behalf of his fellow students."
To which,
Seraphis
added:
"Thanks for the clarification, Wan Mei. To add, Yifei sounded pretty reluctant but went to Xclub because the class monitor had organized the event and the rest of the classmates had to oblige. Yifei seem to hang out with her classmates quite often. Lucky people T.T !"
To which
dtsontan
found an excellent
Time
magazine article on X-club:
"Was curious about X-club, so I found this Time article on it:
www.time.com/time/world/article/0,8599,1696417,00.html
"
Please read the
Time
magazine article on X-club, so the below translation won't be misunderstood in any way.
Here's
Seraphis
' translation:
"Translation begins:
Interviewer : In the last 6 months, we have hardly seen you. What have you been busy with?
Xixi : I went to America for some classes, like language classes and martial art classes.
Interviewer : Why did you want to learn martial arts there?
Xixi : Martial arts actually has to be learnt from young and for now, it is only to strengthen one's body.
Interviewer : Is it because that most Chinese actress that steps into the Hollywood industry needs to rely on martial
arts to obtain a role in movies?
Xixi : This is because for females especially from the East, martial arts is also considered to be one of their
advantages.
Interviewer : Were those people who took martial arts classes with you mostly Americans or Chinese?
Xixi : Mostly Americans.
Interviewer : Do they (referring to thos people taking classes with Xixi) know that you are actually a famous actress?
Xixi : (Laughs) They might know a little because most of them watched The Forbidden Kingdom.
Interviewer : Did they ask you to take a photo with them or sign a signature for them?
Xixi : Nope. But there are people who asked to take a photo.
Interviewer : What are your future plans in acting?
Xixi : For now, there are two films in my mind, one from China and another from America.
Interviewer : Then, would it be more inclined to martial arts or just normal acting?
Xixi : One would be more of martial arts and another would be more of ordinary acting.
Interviewer : Now that you have finished filming TFK, you have became acting partners of Jackie Chan and Jet Li.
What kind of movies now would interest you?
Xixi : I feel that I would like to act in a meaningful movie, so that I would feel contented after that.
Interviewer : Then, how would you ''define'' whether a movie is meaningful or likewise?
Xixi : I hope that my next movie, looking from every aspect, would be a level above The Forbidden Kingdom.
Interviewer : If Yifei becomes the lead actress for a particular movie in the future, I think that the rest of the
actors/actress would be glad to cooperate with Yifei, because the quality of the movie would be
guaranteed.
Xixi : If there is one day that I'm able to turn out like what you had mentioned, that would probably be my
objectives. This is because that would certify myself as an artiste.
Interviewer : During the period between June and July, I was very fortunate to be able to interview Chen Chong
(another artiste) and she said that in Hollywood, after just acting in stereotypical roles for over 10 years,
you have to think about what your future will be like. I'm not sure whether when you entered Hollywood,
do you have the similar feeling?
Xixi : To be honest, there are many Hollywood films that looked for me to play these kind of roles, and I'm
very fortunate that my first movie did not require me to play roles like that. This is my problem when
choosing scripts now. Those roles that does not have active role in the movie and exist in order to fit in
some Asian faces who knows a little bit of martial arts, I would reject it.
Interviewer : Which genre of movies do you like to watch normally?
Xixi : I like to watch Detective-Mystery films.
Interviewer : I'm assuming that someone who likes to watch this genre of shows has strong curiousity?
Xixi : (Nods) Yea. I always like to ask why. Sometimes, I do so without even thinking about it first.
Interviewer : You are those who always has '' Ten Thousand Why's''
Xixi : Right. That is the case.
Interviewer : This proves that you are someone who is very willing to learn.
Xixi : Maybe it is because I entered this industry at a very young age. That is why I hope to know a bit of
everything.
Interviewer : I met you twice and from there I know that you are not the kind that likes to dress extravagantly,
which is what celebrities usually do. Actually, you are still like an ordinary girl.
Xixi : (Laughs) My friends say that I really couldn't chnage my style.
Interviewer : Then, in Beijing, can you just go to supermarkets normally?
Xixi : Yea, I like to go to supermarkets to buy stuffs.
Interviewer : Really?
Xixi : Yea.
Interviewer : There would be many people that would recognize you.
Xixi : I go to supermarkets that has [few] people. (Laughs)
Interviewer : Then, you can hang out with your friends, and maybe dine in a normal restaurant?
Xixi : No problem. I often have reunion with my friends. Previously, we even went to Xclub, which is a place
where they play a game which involves killing people [please read this article for more info on this PG rated game:
www.time.com/time/world/article/0,8599,1696417,00.html
.]
Interviwer : (Asks with a very suprised tone) You like to play those kind of games?
Xixi : Not that I like to play but it is because I wanted to meet up with my friends and then because the
class monitor always arranges the reunion, therefore, we had to follow his decisions.
Interviewer : While you were in America, is the kind of lifestyle you have there same as your lifestyle in Beijing?
Xixi : While in America, my life is full of freedom. I can go to the streets to eat, and if I was tired, I could
just place down my bag, sit down and have a chat with my friends.
Interviwer : You can't do that in Beijing?
Xixi : It would not be that appropriate in Beijing, if it is on the road.
Interviewer : Why not? Maybe you should try it someday.
Xixi : (Just laughs)
End of Interview. I'm sorry if my translation is plague with error because it took me a long time to translate it. T.T Any corrections are welcomed and would be credited."
Huge Thanks to
Seraphis
for the effort in translating!!!