Hi,
Wan Mei
is back with a scoop!
Herewith,
Wan Mei
's comments:
"This young lady ("Amy") and her husband (they are from China) were visiting Victoria Peak in Hong Kong on Oct 22. At arround 9:30pm they saw Yifei accompanied by her mother and another lady entering the shop.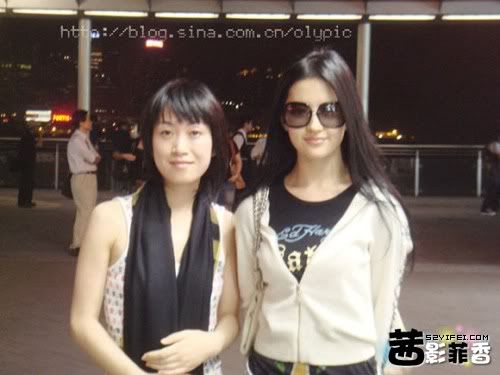 "Amy" said
Yifei is a very nice person indeed, soft-spoken, very beautiful and elegant. She also noticed that Yifei has two small dimples when she smiles.
Beside taking photo with Amy and her husband, Yifei also posed with another young couple.
Source: Amy's Sina Blog but the photo is not available at the moment so I used the watermarked version from 52yifei instead."
Thanks
Wan Mei
for the scoop!
"Amy" and her hubby are really fortunate to meet Liu Yi Fei in Hong Kong while on vacation, perhaps?